Yesterday I released another necklace in my new 1920s Collection available at my Etsy shop, Eva M Designs.  Kait, as you can see below, is simple, soft and lovely.  I named her for a friend from high school who embodied this classic look – a long chain of pearls on antique bronze wire, complemented by (soon to be released!) pearl stud earrings.  I added a few bright Swarovski crystals to add contrast and an antique bronze leaf to tie in a second strand of smaller pearls.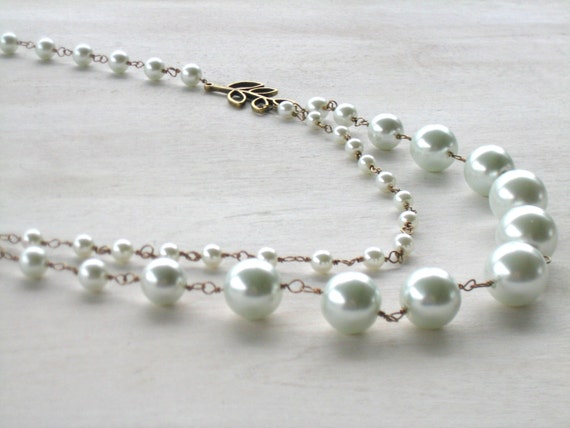 Kait measures 32 inches (81 cm) of beads with another 28 inches (71 cm, 14 inches/side) of ribbon, allowing you to adjust the length as you desire.  Kait would look gorgeous against a dark red satin or navy blue fabric, although she looks just as cute when worn with any garment of contrasting color.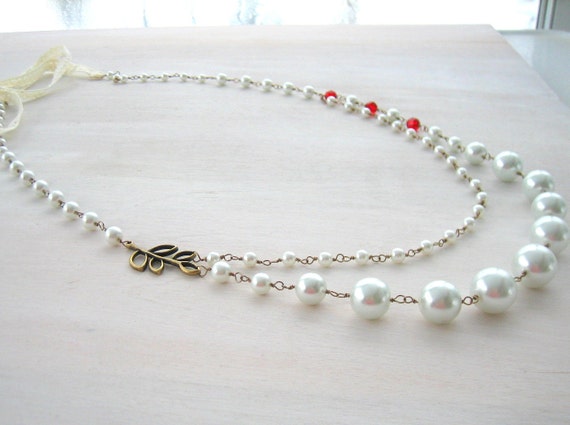 Yesterday I also finished Lucy, another opera length necklace.  Lucy features peach pink freshwater pearls on delicate, dark curb chains.  The contrast is striking.  Though I haven't released her for sale yet, I've decided to share a sneak peek with you!
Thanks for stopping by and stay tuned for more additions to my new 1920s line!